Valley Farm Equestrian Centre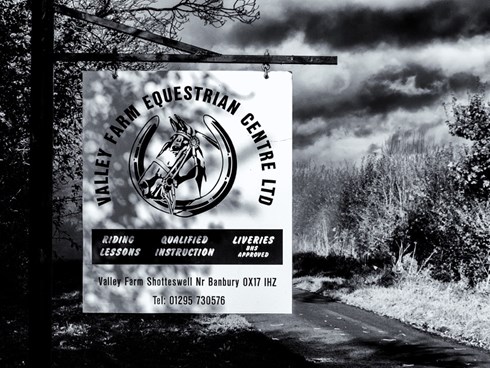 Welcome to Valley Farm Equestrian Centre, we are a family run riding school and livery yard. Ideally situated in the picturesque village of Shotteswell, only 5 miles from Banbury and close to the M40. We are a friendly and approachable yard whilst maintaining a very positive attitude towards achievement.

We have been established for nearly 30 years. We have professional and fully qualified instructors including my daughter Stephanie who has an excellent competition record in British Showjumping and is out competing reguarly.

Whether you are a beginner or a more experienced rider, we have a good range of horses to suit you. We also cater for all experiences on their own horse / pony. We are a Pony Club Centre for children without their own ponies and hold monthly competitions and activities. Our birthday parties and riding vouchers also prove very popular with our younger children.

The yard is home to 30 horses - ranging from Nugget our 12hh pony who was my daughter Stephanie's 1st pony who has now been with us 18 years, up to our 17.2hh irish horse Ivor. Various activities are held at Valley Farm that range from lessons, hacks to summer camps and day courses.
Pony Club
Valley Farm is a well established Pony Club Centre with members from the age of 5 to 16. You can be a Pony Club member up to the age of 25! Now is an exciting time to join the Pony Club! We hold competitions throughout the year, summer camps, day courses, show jumping and cross country lessons, picnic hacks, and loads more!

Pony Club is a great way to learn new riding skills, how to look after a pony, make new friends, and have a great deal of fun! All this and you don't need your own pony to join!
Livery Yard and Facilities
We are a BHS approved livery yard with 35 block built stables all with Equimat rubber matting.
We offer:
24 supervision
All year turnout
Large indoor and outdoor schools both with lights
Full set of Jump 4 Joy show jumps
Horsewalker
Post and rail paddocks
Competitions on site
Qualified staff and tuition
Heated tackroom in winter
Disabled toilet
Tea and coffee room
Livery Services include
Schooling livery
Competition livery
Full and part livery
D I Y
Holiday and recovery livery
We also do part loan of our school horses and ponies.
All our livery services can be tailored to your own needs.

So come a long to have a look around to discuss your requirements.
Riding School
Whether your goal is just to improve your general riding ability or to compete at the next Olympics we are here to help you on your way!

We offer group and private lessons for all abilities. Our group lessons are small offering more individual attention. We are able to cater for children from the age of 5 and adults (maximum weight 16 stone).

We are a BHS approved riding school with fully qualified instructors. Meet our staff below:

Denise Faulkner - Company Director and first aider
Stella Ellard - BHSII
Susie Medcalf - BHSII
Stephanie Faulkner - UKCC level 2, first aider, safeguarding children certificate, Pony Club Instructor
Jenny Anderson - BETEC first diploma, City & Guilds national certificate

We offer hacking in the beautiful countryside after an assessment lesson has been carried out, and have a good viewing gallery when watching lessons. We will do our utmost to keep you safe, however horses and ponies can be unpredictable and each rider rides at their own risk.

We hold regular competitions including an in-house dressage league, unaffilated dressage, clear round showjumping, unafilliated showjumping and pony club monthly competitions and activities. During the summer we offer cross country lessons and field hacks.
Competitions & Schedules
Our competitions are held throughout the year including dressage, showjumping and gymkhanas. Competitions are held either in the large indoor school or large outdoor school. Refreshments are available and a large hard car park.
We look forward to welcoming you to our centre to achieve your goals and dreams.
If you have any questions please call
Denise: 01295 730576 or 07852 536 816
we are all here to help!